For those among us who lament the cookie-cutter direction folk-tinged Americana has taken in the current decade's "pop folk" era — that of the Lumineers or Mumford's Babel – you may now rejoice in that which is The Muse. The fourth album from Boulder's the Wood Brothers revels in everything blues, jazz, gospel and, yes, folk. The opener, "Wastin' My Mind," will stun fans of the Band who are likely to marvel that this song wasn't produced forty years ago, and from there it's a great ride through track after track of genre-bending songs which prove to be more than folk revivalism or obsessive attempts at recreation.
Any album with the one-two-three punch of "Wastin' My Mind," "Neon Tombstone" and "Sing About It" is already worth a listen. But the album's boozy, horn-soaked finale "Firewater" wins the day, that slow-burn melancholy certain to fuel many a full-album restart or furious clicks to repeat the track itself.  The rest of the album more than lives up to the gauntlet the band has thrown down, proof that there's still room in today's musical landscape for albums which challenge the listener. With three months to go, the Wood Brothers have produced this year's best Americana album by far.
---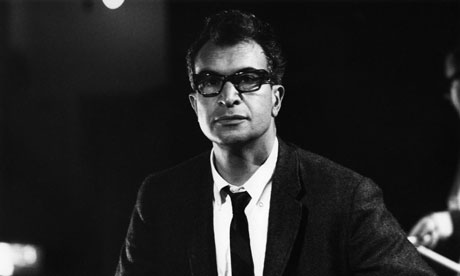 I don't have the background of a jazz expert, but I have long appreciated the experimental nature of the music, built on a flair for "fly by the seat of your pants" improvisation. To quote Wynton Marsalis (from Ken Burns' film Jazz):
It's an artform that can give us a peerless way of understanding ourselves. The real power of jazz, and the innovation of jazz, is that a group of people can come together and create art — improvised art — and can negotiate their agenda with each other. And that negotiation is the art.
Best known outside jazz circles for his song "Take Five," which experimented with a 5/4 time signature and, as part of his 1959 album Time Out, fueled what became the genre's first million-seller, Brubeck was a nimble pianist who loved employing intricate improvised arrangements built upon contrasting rhythms. Brubeck died yesterday, one day shy of his 92nd birthday, but for this music he'll be remembered forever as one of jazz's great innovators.
1. The Dave Brubeck Quartet – "Take Five"
Technically a "one hit wonder" in the pop realm, this song peaked at #25 on Billboard's Hot 100 following its release in September of '61. This version, recorded in 1966, features Brubeck performing with his quartet in Germany. This drum part is a personal favorite, as I learned to play jazz percussion in junior high, playing by ear to recordings of this, Weather Report's "Birdland" and Charles Mingus' "Moanin'".
2. The Dave Brubeck Quartet – "Unsquare Dance"
Recorded on the same day Brubeck wrote it in his head while en route from his home to the recording studio, this piece in 7/4 time became a minor hit for him as well, peaking at #74 on Billboard's Hot 100.
3. The Dave Brubeck Quartet – "Blue Rondo à la Turk"
This one's a favorite of mine, in the unusual 9/8 time signature, inspired by Brubeck's experience hearing Turkish street musicians playing a rhythm known as the zeybeck. Interestingly, however, while the piano intro features the 2-2-2-3 beat construction of the 9/8 pattern, the saxophone and piano solos are in the basic 4/4 signature.
4. Dave Brubeck Quartet – "Eleven Four"
Written by Paul Desmond, who also wrote "Take Five," "Eleven Four" illustrates the complexity not just of writing music in such an unusual meter as 11/4, but to also improvise while under that rhythmic constriction. This recording was part of the band's live album At Carnegie Hall, recorded in 1963.
---
Diana Krall turned to T-Bone Burnett to produce her latest album, Glad Rag Doll, due out October 2 on Verve, and the result invigorates what has already been a many storied career. The album's second track, "There Ain't No Sweet Man That's Worth The Salt Of My Tears," channels Tom Waits so effectively you'll think you're listening to a long-lost outtake from Small Change, and the remainder of the album builds on that energy. Glad Rag Doll is Krall's love-letter to the 1920s, building up to the title cover of the Alger and Yeller theme which more than lives up to the challenge she's set for herself to create an intimate album which feels like you're traveling the world while being whispered to in your own living room. This isn't the most flashy album, or even the most anticipated, to be issued this fall. But Diana Krall's Glad Rag Doll is a significant departure from what she's done before, and it serves as an excellent reintroduction to a performer who deserves to be more widely acknowledged.
You can hear the official first single from the album, "Just Like A Butterfly That's Caught In The Rain," below.
---